In 2017, Friends of Georgica Pond commissioned a study of the Common Reed (Phragmites australis) at Georgica Pond. The purpose of the study was to provide an overview of the history and distribution of Phragmites at the pond and recommend control options. Ray Hinkle, a Phragmites expert, conducted the study (his license plate is PHRAG!). DNA tests by the Molecular Ecology Laboratory at Utah State University determined that the Phragmites at Georgica Pond is the non-native variety that has become widely established in the United States. There is a native Phragmites which is rarely encountered and does not have the invasive characteristics of the non-native variety. The Hinkle study found that more than 60% of the Georgica Pond shoreline was invaded by Phragmites covering approximately 29 acres.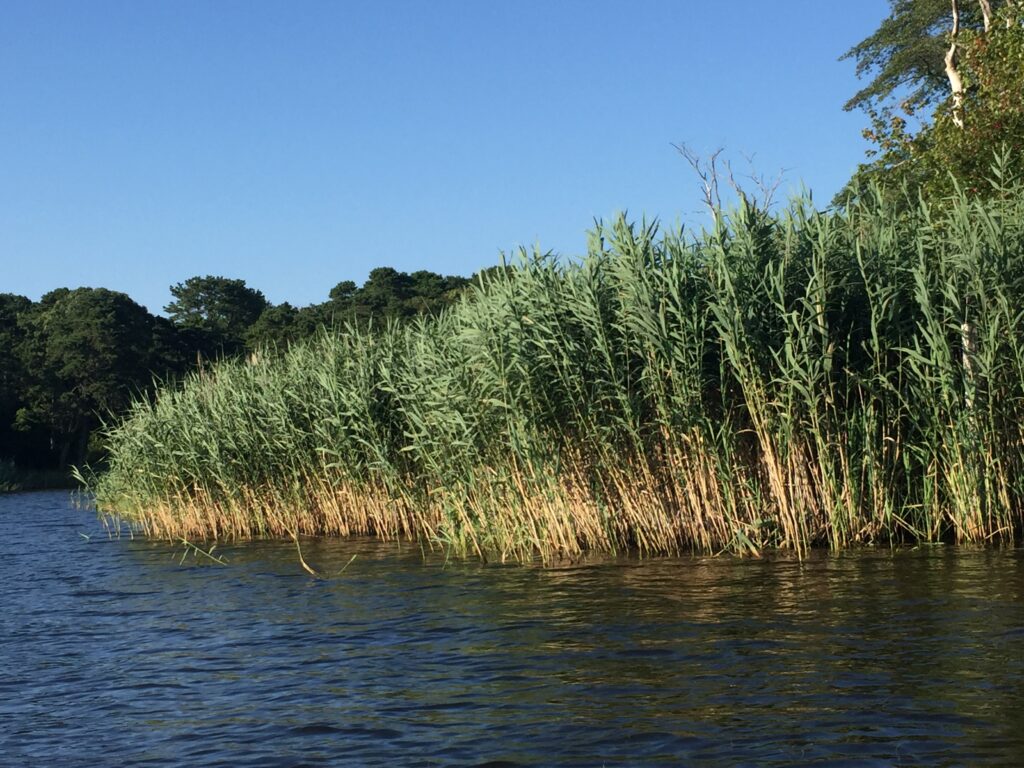 This acreage would be a lot greater if homeowners had not been working to control this invasive grass. Many homeowners have conducted their own experiments with various control options including complete excavation of the soil and root mass, hand digging and annual cutting. Permits are required for all work on Phragmites. According to East Hampton Town Trustee permit records, between 2011-2013 there were nine Phragmites permits issued. Today there are 23 active permits and six pending.
Some homeowners cut Phragmites to improve their view, while others like it to provide privacy. Phragmites does provide excellent screening and the Greek root of its name is "phragma" which means fence! Excavating and replanting with native species can also beautify the pond frontage of a property by establishing a diverse zone of coastal shrubs and wetland species.
Why Control Phragmites?
One of the main concerns about Phragmites at Georgica Pond is its rapid growth into the shallow, small creeks and coves that feed the main pond. Without management, Phragmites can easily choke off these creeks blocking tidal flushing and access to the main pond. But it also dominates the shoreline, outcompeting native brackish species and reducing biodiversity. However, Phragmites does provide some environmental benefit. As a fast grower it has a great capacity for biomass production and thus nutrient accumulation including nitrogen and phosphorous—two nutrients that are over-abundant at Georgica Pond.
Georgica Cove Excavation
In 2018-2020 Friends obtained the necessary permits from the Trustees, Village and the NYS DEC to do a small excavation at the northern end of Georgica Cove. The goal of this project was to open the upper end of the Cove to tidal flushing and improve access to the cove.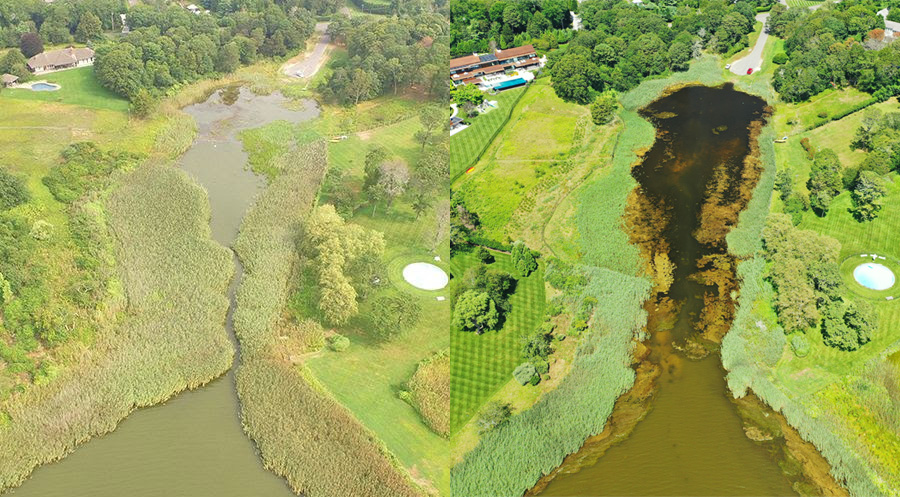 The project was mechanically challenging, expensive, and lengthy but did accomplish its goal.
At least three other homeowners have excavated Phragmites including the entire root mass and replanted with native species. This is the most thorough and long-lasting way to control Phragmites and establish a more desirable pond frontage. It is expensive but according to homeowner Walter Weil, it is worth it. He recommends taking the long view.
What to plant instead
There are several native species of plants that can be planted to replace Phragmites. At Georgica Pond three great alternatives include the narrowleaf cattail Typha angustifolia, slough grass or sometimes called freshwater cordgrass Spartina pectinata and soft rush Juncus effuses. For more species visit the Long Island Native Plant Initiative. In addition, the Town of East Hampton, Natural Resources Department has an excellent native plant guide (PDF) organized by habitat.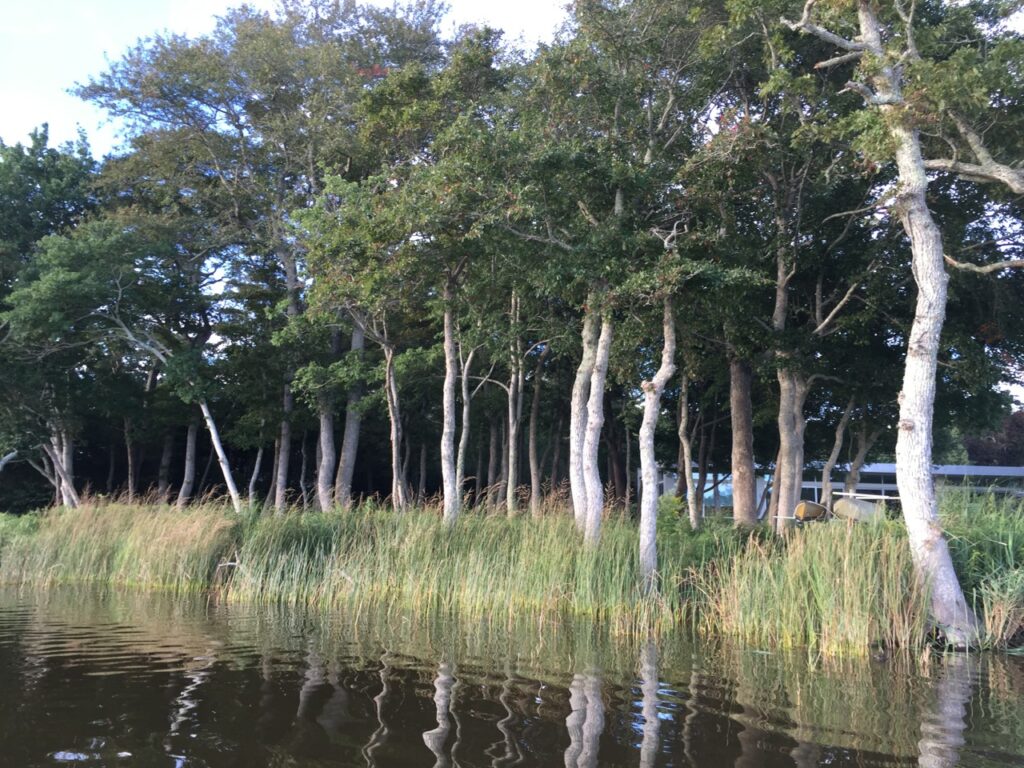 Harvesting nutrients
While excavating Phragmites and replanting with desirable marsh plants will provide for the best long-term control and add to the biodiversity of Georgica Pond, this alternative may not be available to all homeowners due to lack of access to wetlands by the necessary heavy equipment.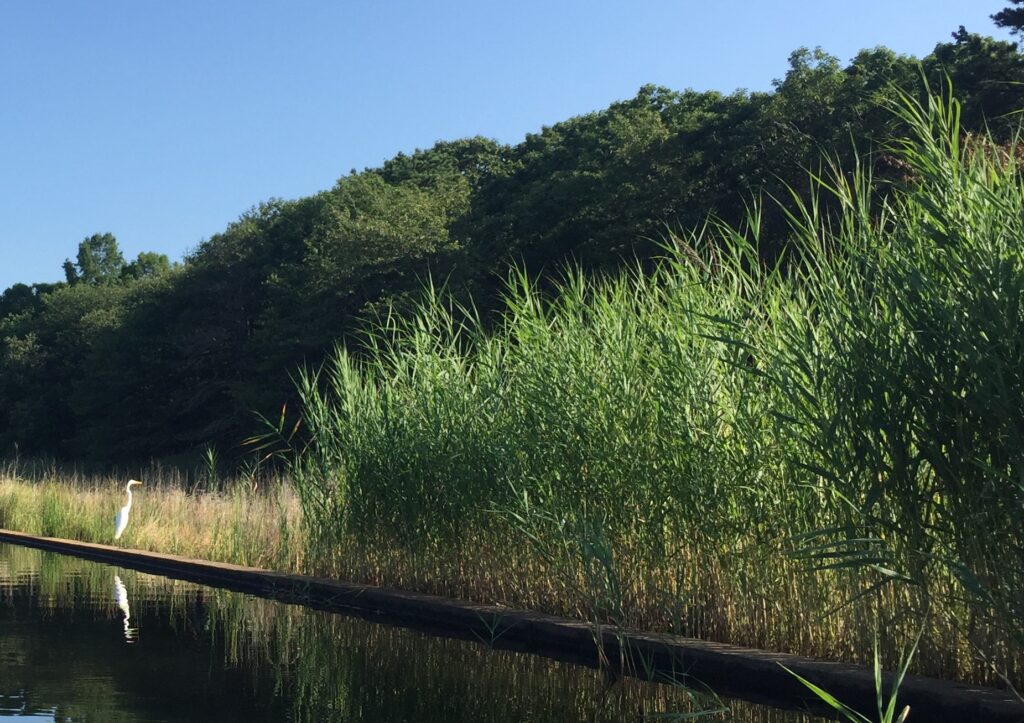 Perhaps a new way to think about Phragmites is as a nutrient collector. Recent research has been examining the role of Phragmites in the nitrogen and phosphorous cycles in wetlands. Phragmites is an excellent collector of nitrogen and phosphorus, and analysis has shown that the greatest concentration of these nutrients is in the plant's leaves. One study on Martha's Vineyard estimated that harvesting the above ground biomass (leaves and stems) of Phragmites removed approximately 200 kg of nitrogen/acre at peak plant growth. If all 29 acres of Phragmites at Georgica Pond were harvested, potentially 5,800kg (6 tons!) of nitrogen would be removed. That's a lot of nitrogen.
When to harvest?
To maximize nitrogen removal, it is recommended to harvest (cut and remove) Phragmites in June and July when the nutrient concentrations in the above ground plant are highest. Cutting alone without removing the biomass defeats the purpose of nitrogen removal and may even help spread the plant by allowing pieces of rhizomes and other plant parts to float around the pond. Cutting too late in the year is not effective as the leaf and stem nutrients have already been translocated to the roots for future growth.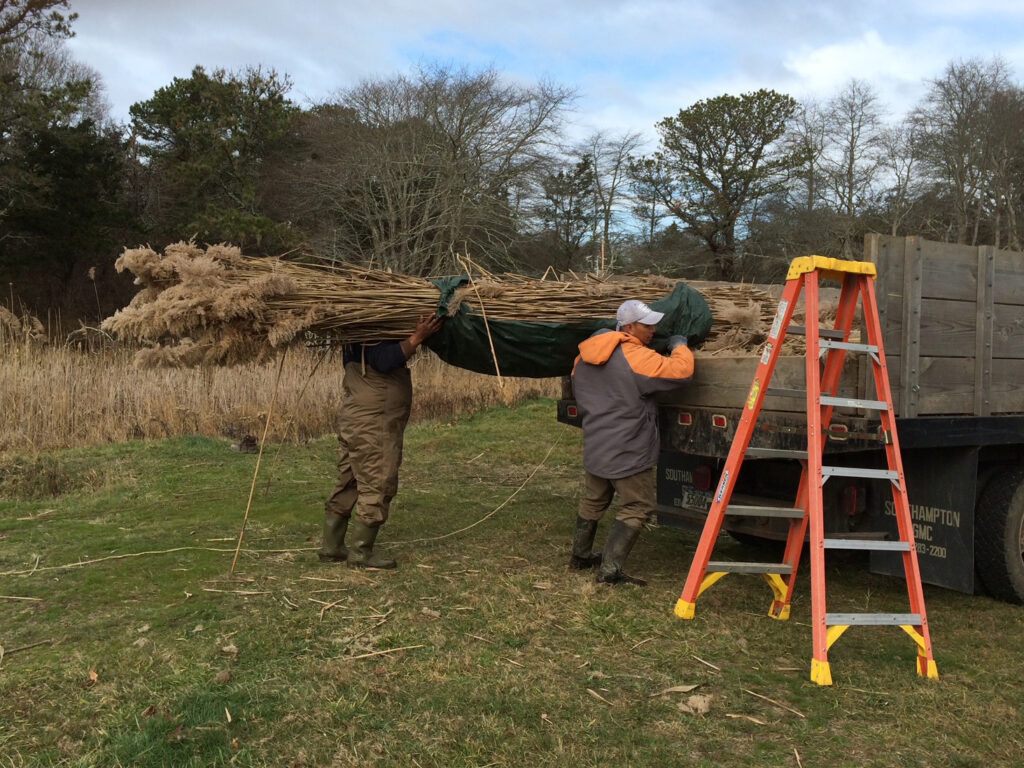 In the end, Phragmites is not likely to be eradicated from Georgica Pond. Excavation and replanting native species, while effective, is expensive; and just single cuttings are not effective (not to mention removing and disposing of the cuttings). As one experienced wetland manager commented "Phragmites will humble you." But by cutting it at the right times over several years, nitrogen and phosphorous concentrations can be reduced in Georgica Pond. There is much still to learn about Phragmites.