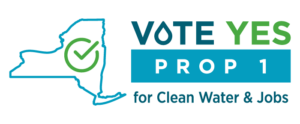 New York State lawmakers recently passed the Clean Water, Clean Air, and Green Jobs Bond Act (voteyescleanwaterand jobs.com), a historic piece of legislation that will fund critical environmental protection and restoration projects throughout the state. 

Now, it's up to voters to vote YES in the general election on November 8.
Projects supported by the Bond Act will:
Safeguard clean drinking water, preventing contamination and pollution
Update aging or failing water and sewer infrastructure
Reduce carbon pollution that causes climate change
Preserve woodlands, wetlands, and other wildlife habitat
Friends of Georgica Pond Foundation supports the Bond Act because it could provide funding to install green infrastructure at Georgica Cove and the Rt. 27 rest stop and purchase sensitive groundwater recharge properties in the Georgica Pond Watershed.
Everyone who is registered to vote in New York State can vote.  So, on November 8, please remember to flip the ballot over and vote YES!