The Trustees of the Freeholders and Commonality of the Town of East Hampton have been dredging the mouth of Georgica Pond for many decades. The Trustees are the original government of East Hampton established by King James II through the Dongan Patent on December 9, 1686. They are as vital today as they were in the 17th Century.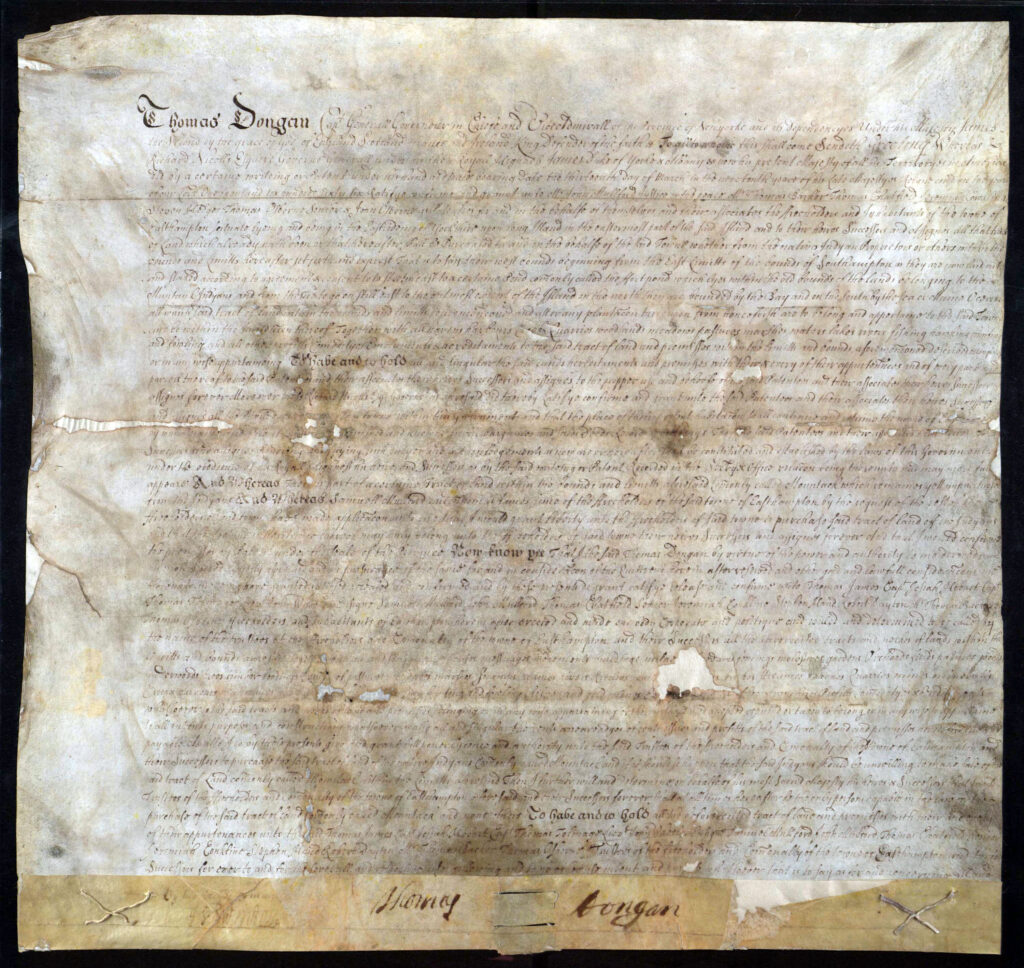 Dredging is not the same as the multiple openings of the pond that the Trustees perform each year, but greatly improves the results of these openings. The dredging which is conducted under a 10-year permit with the New York State Department of Environmental Conservation (NYSDEC) allows for 15,000 cubic yards of sand to be removed from the mouth and 950 cubic yards of sand to be removed from Georgica Cove. Every year the ocean currents, waves and wind fill the lower part of the pond with sand and the dredging helps balance this force by removing some of the sand and restoring it to dunes and beaches nearby. This is important because the large amount of sand in the pond reduces the circulation in the pond, keeps the pond shallower and thus warmer—all of which are conditions that can lead to harmful algal blooms. At Edgartown Great Pond on Martha's Vineyard a similar dredging plan has significantly improved water quality.
The Trustees are a group of nine elected citizens and have a wide range of responsibilities including ponds, bays, beaches and some roads. One of the many things they do is own and run the critical pump out boats that service boats in all of East Hampton's harbors. They accomplish their work by committee. The pond committee, consisting of Rick Drew, Jim Grimes and Ben Dollinger has oversight of Georgica Pond. Friends meet with the pond committee at least once a year and a representative from the pond committee also serve on the Georgica Pond Steering committee which meets quarterly.

Contracting and supervising a dredger for Georgica Pond is a big responsibility and the Trustees have done an excellent job since the latest 10-year maintenance dredging permit was implemented in 2018. Water quality continues to improve in part because of the annual dredging and more effective twice annual lettings.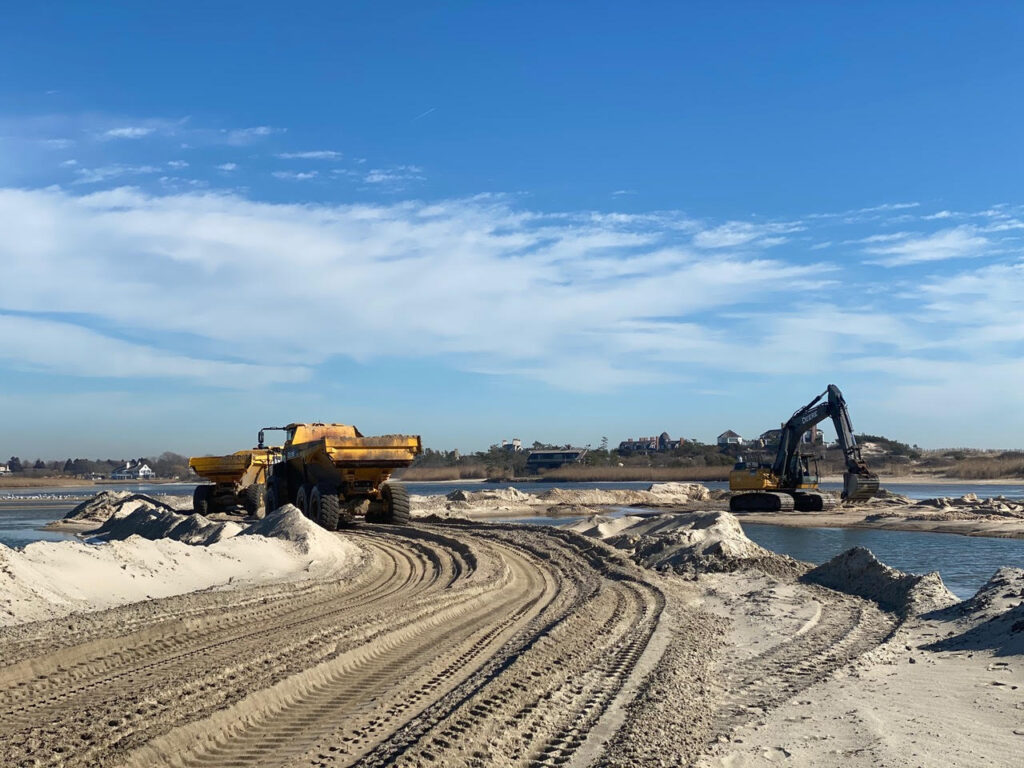 Long arm excavators are generally used to scoop up the sand which is then trucked to a temporary placement site where the sand de-waters. When ready, the sand is transported to nearby beaches and dunes. This activity must be completely finished by March 31 in order not to conflict with piping plovers who are returning to set up nesting territories at that time.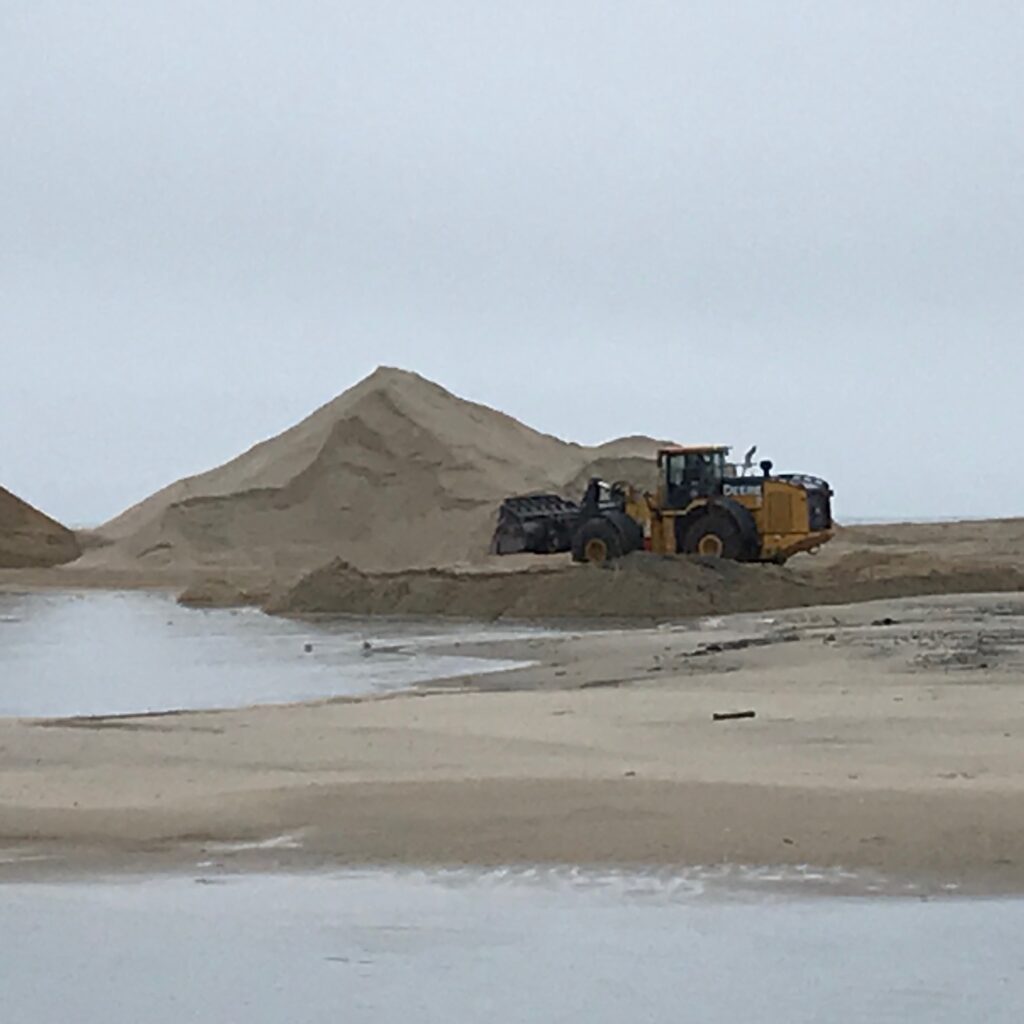 During the pandemic, many more people are spending time at the pond and may not have experienced the dredging operation. The heavy equipment and large piles of sand are just temporary and although it may look like a war zone now, come spring, most people, even the piping plovers, will not notice a difference.