How many times have you driven past a property where the irrigation system is on during a rain storm or the jets are watering the street? The answer is far too many. The good news for homeowners is that there are solutions to this dilemma and cost savings to be achieved by managing and adapting your irrigation system to conserve water.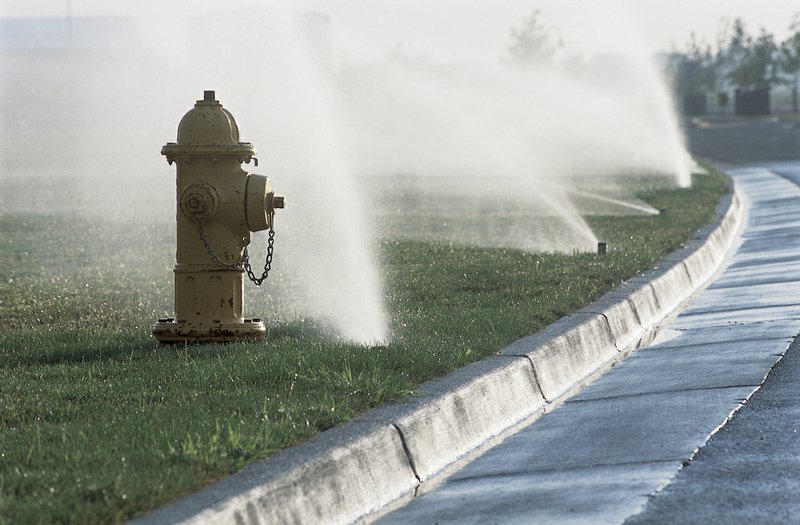 Why bother?
Our groundwater is precious and limited and wasteful irrigation contributes to the pollution of nearshore waters such as Georgica Pond. The US EPA estimates that close to 50% of the water we use outdoors goes to waste either from evaporation or runoff due to overwatering.
How much irrigation is necessary on the East End?
Our mild maritime climate provides ample rain to sustain native vegetation and well-established plantings. The rule of thumb is that one inch of rain per week is sufficient for most gardens. Rainfall is distributed fairly evenly over the year but not always when it's most needed; at those times and for new plantings and lawns, irrigation can make a difference.
According to Edwina von Gal, the founder of the Perfect Earth Project and landscape designer, the most important thing to remember about irrigation in April is "Don't". She goes on to say "When your system is opened for the season, don't turn it on. There is still plenty of moisture in the soil in early spring. The rule of thumb on the East End is that you don't need to irrigate until mid- June or so. July and August are the months when irrigation is most useful." For more great information on irrigating, feeding and toxin free landscaping visit perfectearthproject.org
The bottom line is that we water our lawns too much
Excessive irrigation keeps nutrients like nitrogen soluble and helps accelerate runoff of these nutrients into ponds and streams. Georgica Pond is already way over EPA guidelines for nitrogen from septic systems, and adding extra nitrogen from landscape irrigation is easily controlled by proper irrigation. Jim Grimes, East Hampton Town Trustee who owns James C. Grimes Landscape Design and Fort Pond Native Plants Garden Center, observed that "the amount of water released into some gardens by irrigation, combined with local rainfall, brings the total water added close to rainfall amounts experienced by rain forests."
Here are five things you can do to save water if you have an irrigation system:
Don't turn it on until it's needed. Mid-June, July and August are the months when it is really needed.
Add a rain sensor to your irrigation system or a weather-based SMART irrigation controller.
Reduce your lawn area and replace with groundcovers and shrubs, especially native plants.
Water your lawn only twice per week for 1 hour. You want to mimic a good soaking rain. Don't irrigate for 15 minutes every day. Watering long and deep encourages deep roots and a healthier lawn.
Seasonal Stress on our Water Supply
This graph clearly shows the increase in use of water during the summer which peaks in the early morning hours when most people irrigate their lawns. The blue line shows the amount of water the Suffolk County Water Authority (SCWA) has to pump to irrigate lawns even on rainy summer days!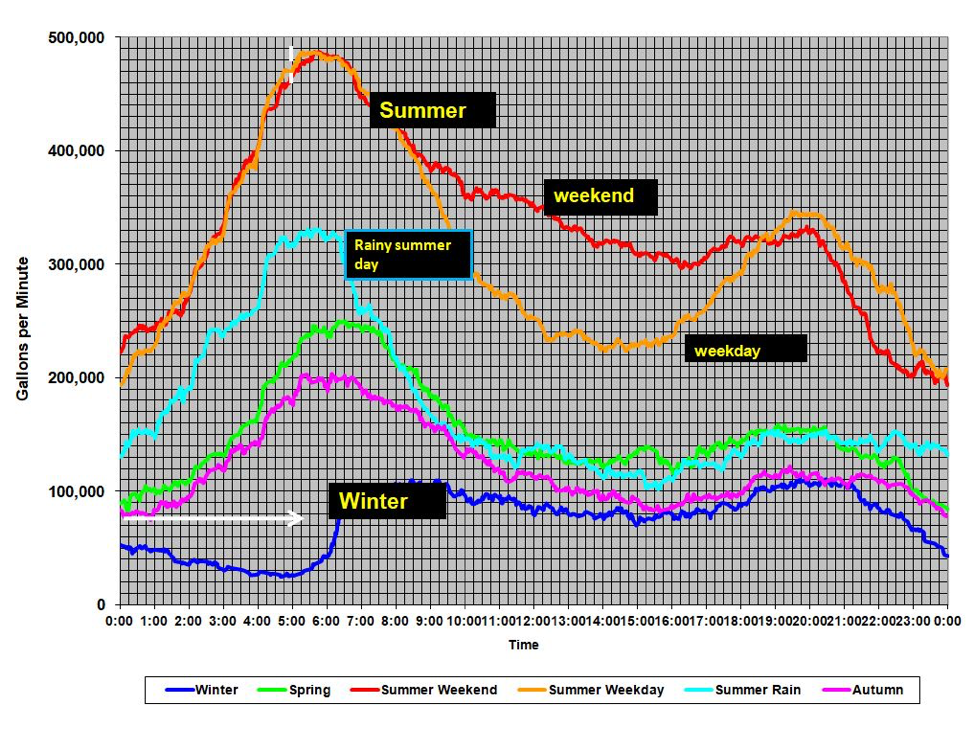 For helpful information on conserving our drinking water visit the SCWA website www.scwa.com.
"Protecting Long Island's aquifer, the sole source of all our drinking water, is critically important," Suffolk County Water Authority (SCWA) Chairman Patrick Halpin said. "One of the best ways we can do this is by using our water judiciously. Eliminating wasteful use practices such as over-watering our lawns will help ensure future generations of Long Islanders have access to the same great water we have today."