Many of you were able to attend the informative meeting on low-nitrogen septic systems on August 27th at the Creeks.  For those of you who couldn't attend, we are providing this e-newsletter.
Our special thanks go to Dr. Anna Chapman and Ronald Perelman for hosting the event at the Creeks.  The Creeks' theater provided a perfect venue for the program.
The biggest gift you can give Georgica Pond in the next year is to upgrade your septic system to the new nitrogen removing systems now approved by Suffolk County.  It's been 40 years since the county health department has updated their regulations; but they finally are catching up and four systems have already been approved, with several others about to complete their testing phase which will determine if they are approved or not.
Since every site is different with factors such as depth to groundwater and seasonal use of the home affecting the functioning and design of the system, it is important to consult with an expert (click to view PDF).  In some cases, it may just require adding some new components to your existing system and in other case it could mean total replacement.
Dr. Christopher Gobler, Science Advisor to FOGP presented the third annual State of Georgica Pond Report (click to view PDF). Gobler's data clearly shows that the largest source of nitrogen entering the pond (50%) is from wastewater originating from septic system.  Conventional septic tanks connected to leaching pools remove very little nitrogen from wastewater.  This nutrient-rich wastewater then enters the groundwater and travels to the pond.
The new systems rely on biological activity which changes the nitrogen from soluble nitrate to nitrogen gas which is released to the atmosphere. This is called de-nitrification.
This simple, short video produced by The Nature Conservancy illustrates the problem and solutions well.
Dr. Gobler's presentation was followed by Justin Jobin, the Environmental Projects Coordinator in the Office of Ecology of the Suffolk County Department of Health Services. Justin gave an overview of the progress the County has made and a summary of the different systems now available and what they look like.
Justin and Dr. Gobler joined a panel of experts which included Chris Clapp, a marine scientist with The Nature Conservancy on Long Island and Glynis Berry, a Leed Certified Architect and the Executive Director of Peconic Green Growth, which advocates for environmentally sound sustainable growth to answer questions from the audience.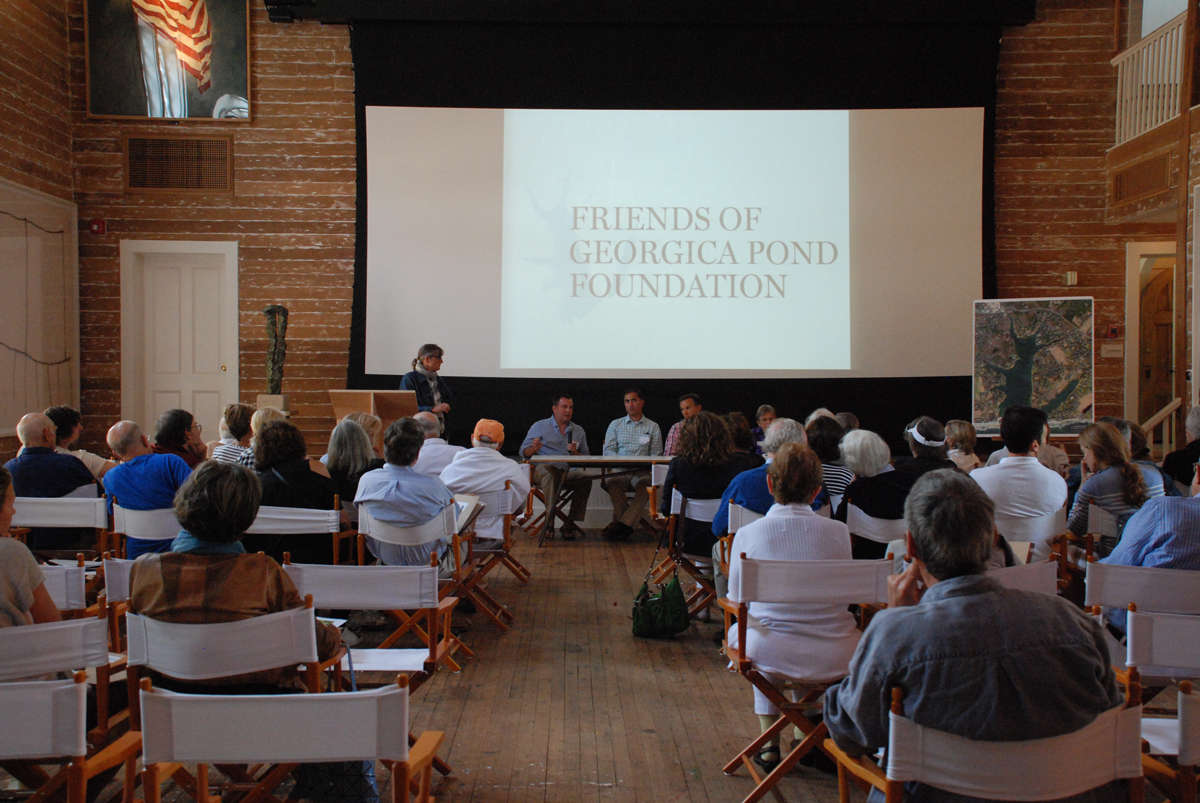 Here are a few important steps you can take right away to get ready:
Contact an engineer/architectural professional from the link above to assist you with selecting the right design for your situation and the required permitting
Disconnect your kitchen sink waste disposal system if you have one*
After meeting with and hiring an architect/engineer you will want to speak to your landscape architect or landscaper about clearing impacts on your garden if any, and if any plants will need to be moved.
(kitchen scraps run through a kitchen disposal system are not conducive to the biologic breakdown in septic systems and should be composted separately.)
Both the Village and Town of East Hampton are working to streamline approval processes for the new systems, and have rebate programs to encourage those needing financial support. East Hampton Village has already waived the need for a ZBA permit for systems already approved by the Suffolk County Health Department.