A dense bloom of blue green algae has developed in Georgica Pond during the past week, marking the second consecutive year of such an event.  The NYS Department of Environmental Conservation has set a threshold level 25 micrograms of blue-green algae per liter of water as the concentration above which a public notice is provided to warn citizens against exposure to blue-green algae some of which can produce toxins that can poison animals, particularly small dogs, that may consume the water. Levels in Georgica Pond exceeded 100 micrograms of blue-green algae per liter per liter late last week.
There had been hopes that the extended opening of the inlet during the first half of 2015 would discourage the growth of blue green algae which thrive only in fresh and low-salinity brackish water, and this seemed to be the case as blue-green algae first emerged earlier in the summer in 2014, specifically in mid-July. However, the natural flow of stream and groundwater into the Pond has progressively driven the salinity levels down from 31 PSU (practical salinity units) in late June, 2015 to below 14 PSU by early August.  Certain types of blue-green algae, including the specific types found in Georgica Pond, can grow at salinities of 15 PSU and lower. The Anabaena algae found in the pond has the potential to produce gastrointestinal toxins and neurotoxins.  Low levels (1 microgram per liter) of the gastrointestinal toxin, microcystin, were present in Georgica Pond last week.  The World Health Organization has set a drinking water threshold of 1 microgram of microcystin per liter but only considers levels above 2 microgram of microcystin per liter a recreational risk.  We suspect that the neurotoxin is also present but have not yet verified that.
Dr. Christopher Gobler, a marine science professor at Stony Brook University, has been studying the Georgica Pond for the East Hampton Town Trustees since 2013 and this year began a study supported by Pond users and residents to identify the sources of nutrients to Georgica Pond as well as measures to mitigate resulting environmental problems including blue-green algal blooms.
"We know the blooms of blue-green algae are brought about by high temperatures, high nutrients, and low salinity," said Gobler. "We cannot change the water temperature or nutrient levels in the water right now, but we know from experience that if the cut were opened blue-green algae would be flushed out and higher salinity ocean water would be brought in, thus inhibiting the growth of the toxic blue-green algae."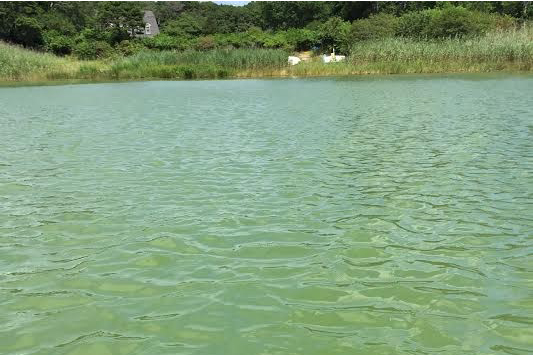 Gobler further noted that in 2014, the blue green algae bloom persisted from July through October but vanished within days of the cut or ocean inlet being opened by the East Hampton Town Trustees on October 15th. The Friends of Georgica Pond Foundation, a group considering the interests of all those who use Georgica Pond and/or work or reside in the greater Georgica Pond watershed are primarily concerned with protecting human and animal health and thus supports efforts to remediate the situation based on the scientific evidence presented in Dr. Gobler's ongoing study. The East Hampton Town Trustees will meet on August 11th to discuss possible responses to this bloom event.